WIP Collaborative is a shared feminist practice of independent design professionals focused on research and design projects that engage community and the public realm.

For project-related inquiries, please contact us.
Projects | Team
The Neurodiverse City
2021
Winner, Design Trust for Public Space RFP

"The Restorative City: Building Community Wellness Through Public Space"



with

Verona Carpenter

, Sasha Topolnytska
The Neurodiverse City is an onging phased research and design initiative in partnership with Verona Carpenter and with the support of
CIDNY
,
BILS
, and
IncludeNYC
. Through a two-year, phased research and co-creation process with these partners and local communities, we will examine existing public spaces - playgrounds, streetscapes, and pocket parks, prototype design interventions to make them more sensory friendly, and propose new guidlines to support the greates range of physical, emotional, and neurological differences in the public realm.
Though we live in a neurodiverse city, the design of the public realm does not support the entire population and their range of physical, neurological, and emotional needs. In the wake of the isolation and trauma of the pandemic, it is urgent that our city spaces offer inclusive zones where all of us, including those with "invisible disabilities" and sensory sensitivities, can come together and find restorative common ground. Through a research and co-creation process with local communities, this project will examine existing public spaces - such as playgrounds, streetscapes, and pocket parks - and propose new design guidelines to support the greatest range of physical and neurological differences.
Read more at the
Architect's Newspaper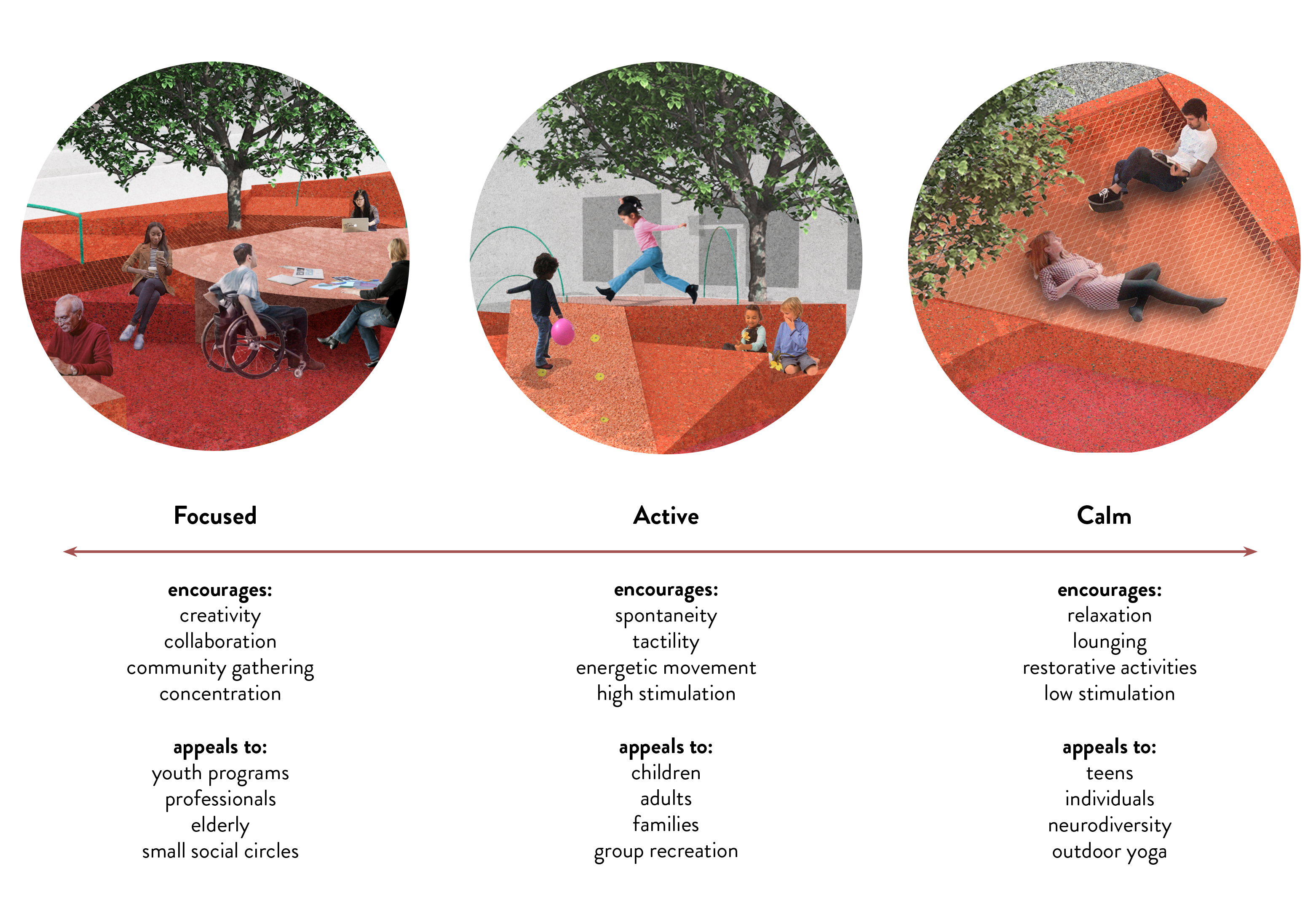 Restorative Ground
Summer 2021
Public Installation
Winner,

Care for Hudson Square Competition
Restorative Ground is a public streetscape installation in Hudson Square, NYC that offers a multifaceted landscape of choice and a new vision for inclusive and immersive public space. The installation provides a range of spatial qualities - high and low stimulation, tactile materials and textures - in order to create an environment that supports a variety of sensory experiences. Rather than a one-size-fits-all approach, the installation utilizes that range of conditions to create distinct experiential zones: focused, active, and calm. During the period of its installation from July to November 2021, Restorative Ground offers a dynamic platform for public life to re-emerge in Hudson Square; a place for individual and collective engagement, recreation, and healing.
Press links:
Curbed

,
Fast Company
,
Architect's Newspaper
Valatie Pre-Design
2020
Project Visionning
WIP developed site research and planning proposals for a mixed use site in the upper Hudson Valley. Situated between the main street of Valatie and a local creek, the site will include a small commercial space, rental apartments, and the owner's residence and a series of open spaces connecting to the creek. WIP aided the client in strategic planning by developing extensive research on the social, economic, ecological, and architectural context of the area, as well as developing options for programming and material strategies.
Inclusive Play
2020-
Ongoing Research
WIP Collaborative is developing strategies for inclusive play spaces for people of all ages and abilities, with a particular focus on designing for neurodiverse populations. While the needs of this group vary from individual to individual, many experience heightened stimulation from their surroundings, and would benefit from a balance of high and low sensory inputs in their environment. This research is driven by the interest in how the specific needs of differently abled populations could be beneficial and appealing for all people. Through a series of interviews with experts and self-advocates, the team is developing an alternative approach to that of universal design which addresses inclusivity through a series of generalized accommodations. This research explores a diverse range of formal, aesthetic, and material possibilities to create environments of positive engagement and play for everyone.